Careers at Peak
Peak Environmental is the destination company for the areas best landscape professionals!
Peak offers a great work environment and benefits:
Competitive Wages and Overtime Pay

Year-Round Employment Opportunities

Open Book Management with Bonus Program

Safe, well-maintained equipment

Great culture, positive environment, fun-loving team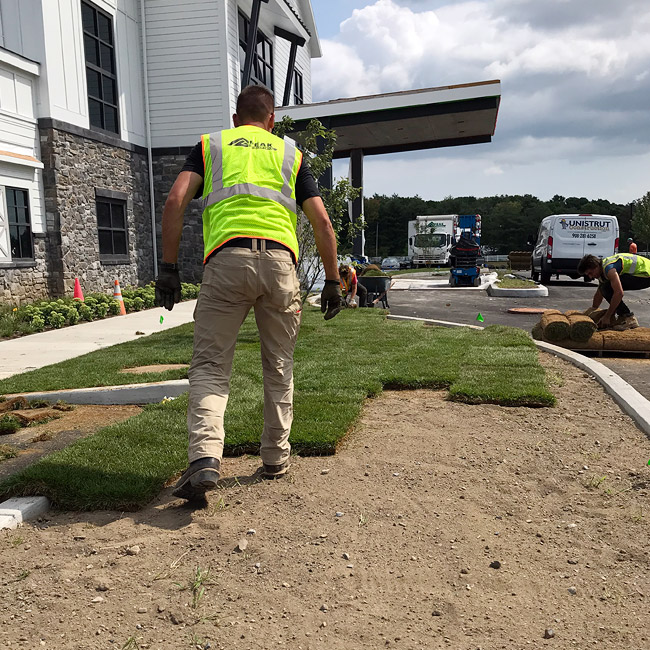 A clearly defined "Pathway To Success" to get training, receive pay raises and advance up the company ladder!

Paid training programs and educational reimbursements

Retirement savings with Employer Matching

Paid Time Off and Holiday Pay

Company Trips and Parties!
Our Purpose
To be great stewards of the land upon which we live and work.
Our Core Focus
The design, construction, and management of landscapes in Saratoga County and the surrounding areas.
Why Work for Peak Environmental?
We build really cool projects, and our team loves to work and play in the great outdoors. Do you value building awesome projects in a sustainable way? Do you take pride in your skills and abilities? Are you looking for a career instead of a job?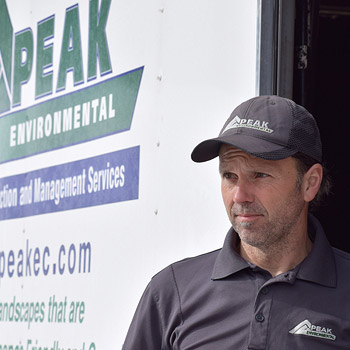 Utilities and Irrigation Foreman
The Utilities Foreman will be responsible for overseeing the team that installs and services utilities for Peak Environmental's customers and job sites. This is a hands-on position that will own the results of our utility installations and services, while leading the team to stay focused on workmanship and safety.
Responsibilities:
Ability to lead a crew of 2-4, maintaining a culture of productivity and safety
Ability to install and service low-voltage electrical devices and lighting
Ability to install and service irrigation systems, and all relevant plumbing
Must be positive, flexible, and customer service oriented
Demonstrate effective problem-solving techniques in the field
Must have a valid NYS driver's license
Ability to lift 20-50 lbs
Ability to work in a wide range of weather condition and elements
Ability to stand for extensive periods, lift and bending for extensive periods
Qualifications/Requirements:
Our ideal candidate has 2+ years of experience in the following areas: management/foreman responsibilities, plumbing, electrical, irrigation systems, low-voltage lighting, heavy equipment operation.
Benefits:
Weekends off (during the regular season)
Time-and-a-half over 40 hrs (overtime required)
Year-Round Employment (Snow)
Company-wide bonus plan
Health Benefits & Dental and Vision Coverage (after 90 days)
A clearly defined "Pathway To Success" to advance up the company ladder
Training programs and educational reimbursements
Paid Time Off / Holiday Pay
Company Trips and Parties!
Job Type:
Full-time
Weekly pay
*We are an equal opportunity employer and prohibit discrimination/harassment without regard to race, color, religion, age, sex, national origin, disability status, genetics, protected veteran status, sexual orientation, gender identity or expression, or any other characteristic protected by federal, state or local laws.*
Salary: $25.00 – $28.00 per hour
Schedule:
10 hour shift
Monday to Friday
Ability to commute/relocate:
Clifton Park, NY: Reliably commute or planning to relocate before starting work (Required)
Experience:
Irrigation/Sprinkler System: 3 years (Required)
Foreman/Management: 2 years (Required)
License/Certification: Driver's License (Required)
Work Location: In person
Skilled Labor Technician for Landscape Construction
Peak is looking for a Skilled Labor Technician who wants to help us build amazing outdoor living spaces, rotating through our various divisions.
Are you great on loader and skid-steer, but you also love hardscaping?
Are you a solid carpenter, but you also love planting trees?
We have a lot of great projects coming up this year, and we are looking for a hard-working, skilled individual who has the skills and experience to help us build them. Some of the skills we're looking for:
Hardscaping: lifting, laying and cutting stone for retaining walls, outdoor kitchens, walkways, pool copings, etc.
Carpentry: building pergolas, decks, framing pool houses, carpentry features on green roofs.
Site Work-leveling and grading surfaces to prepare job sites
Softscaping: planting, mulching, pruning.
Heavy equipment operation: loader, skidsteer, backhoe is a plus.
Benefits:
401(k)
401(k) matching
Dental insurance
Health insurance
Paid time off
Professional development assistance
Retirement plan
Vision insurance
Job Type:
Full-time
Weekly pay
*We are an equal opportunity employer and prohibit discrimination/harassment without regard to race, color, religion, age, sex, national origin, disability status, genetics, protected veteran status, sexual orientation, gender identity or expression, or any other characteristic protected by federal, state or local laws.*
Salary: $22.00 – $27.00 per hour
Schedule:
10 hour shift
8 hour shift
Monday to Friday
No nights
No weekends
Ability to commute/relocate:
Clifton Park, NY: Reliably commute or planning to relocate before starting work (Required)
Experience:
Heavy equipment operation: 1 year (Preferred)
License/Certification: Driver's License (Required)
Work Location: In person