Outdoor Kitchens
The fusion of cooking, dining, and entertainment in an outdoor setting
Outdoor kitchens have become an increasingly popular feature in modern residential landscaping
These functional and stylish spaces typically include a variety of amenities, such as built-in grills, countertops, sinks, refrigerators, storage cabinets, and even pizza ovens or outdoor fireplaces.
Outdoor kitchens provide a convenient and enjoyable way to prepare and enjoy meals while taking advantage of the fresh air and natural surroundings. They create a social hub for gatherings and celebrations, allowing hosts to engage with guests while preparing food. With their versatility and design possibilities, outdoor kitchens offer a unique and elevated culinary experience, transforming ordinary backyard spaces into culinary retreats and extending the living and dining areas beyond the confines of the home.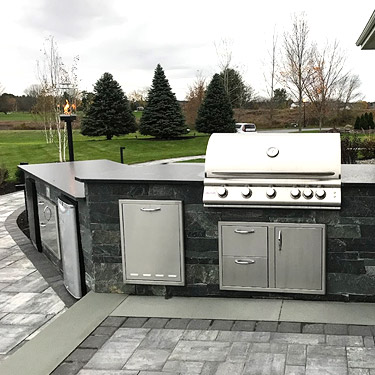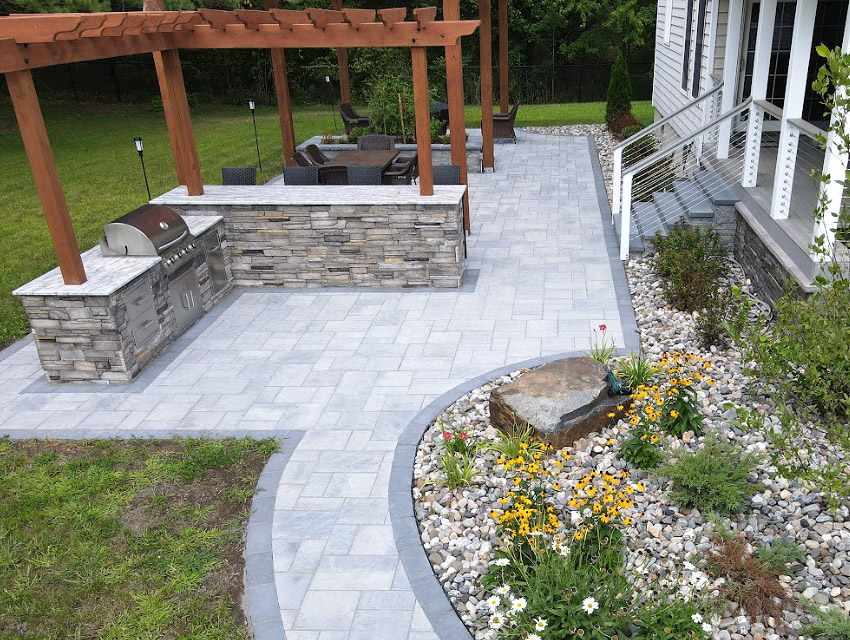 Making the outdoor kitchen part of your landscape design
Transform your outdoor space into a functional and inviting area where cooking, dining, and entertaining can take place in harmony with nature. By carefully considering the layout, materials, and amenities, an outdoor kitchen can blend seamlessly with the landscape, complementing the existing hardscape and plantings. The design can incorporate elements such as stone countertops, weather-resistant cabinetry, and built-in cooking appliances that harmonize with the surrounding environment. An outdoor kitchen not only provides a practical and convenient space for preparing meals but also becomes a focal point within the landscape, encouraging gatherings, fostering connections, and creating lasting memories in the great outdoors.
Outdoor kitchens crafted and designed just for you
Custom designing an outdoor kitchen allows homeowners to create a personalized and tailored culinary space that perfectly suits their needs, style, and preferences. With custom design, every aspect of the outdoor kitchen can be meticulously planned and crafted to ensure optimal functionality, aesthetics, and integration with the surrounding landscape. From the layout and configuration of appliances to the selection of materials, finishes, and decorative elements, customization offers endless possibilities.
Homeowners can choose specific cooking appliances, such as a built-in grill or pizza oven, incorporate unique features like a bar area or outdoor sink, and select materials that match their desired aesthetic, whether it's a rustic, modern, or Mediterranean look. The process of custom designing an outdoor kitchen involves collaboration with experienced professionals who can provide expertise, insights, and guidance to bring the vision to life. The result is a truly one-of-a-kind outdoor kitchen that not only meets the practical needs of cooking and entertaining but also reflects the homeowner's individuality and enhances the overall enjoyment of the outdoor space.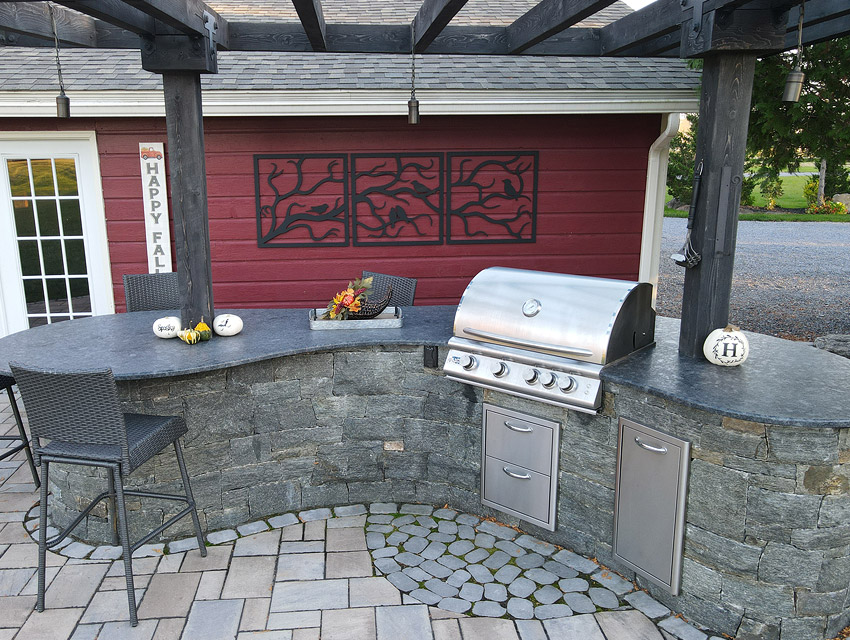 Contact Peak today about designing your ideal outdoor kitchen!